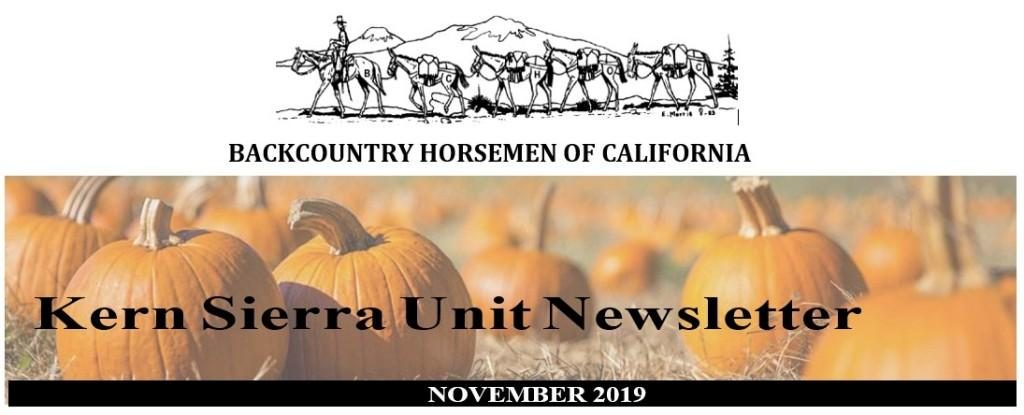 PRESIDENTS LETTER
Dear Kern Sierra Unit members,
As we are entering the final months of the year, we have a few upcoming events such as a booth at the Cowboy Market Place Nov 22-24th located at the Ranch Rio Stables and the Kern Sierra Unit Annual Christmas Banquet Dinner December 2nd at the  Woolgrowers restaurant.
We will be honoring Dr. Mylon Filkins for his many years of dedicated service to BCHC at the dinner this year. If you have any exciting stories to tell of your backcountry experiences with Dr Filkins please feel free to share.
We will be having three drawings this year.
Survey Drawing. Fill out the attached survey mail it, email it, or bring it to any of the above events and a ticket in your name will be entered in a special drawing. This is to assist us in the planning of BCHC's future.
Donated item raffle drawing $1 tickets
Gun Raffle drawing $20 tickets
You do not need to be present to win or purchase tickets. If you would like to pre-purchase tickets, contact me.
It's an ongoing battle to keep public lands open to stock use. The current battle involves E-bikes on non- motorized trails. A letter of action is on the BCHC state website. http://www.bchcalifornia.org/ Read and respond ASAP. Time is of utmost importance. Also go to the Kern Sierra web site http://bchckernsierra.com/ and read the Tahoe E-bike demand letter from our BCHC President explaining the matter in more detail. BCHC has joined in a lawsuit fighting the process that was taken permitting ebikes (bikes with electric motors) on designated non-motorized trails without any public input.
Donations for the legal fund are needed now more than ever. If you would like to make a specific donation to that fund contact Lynn Joiner.
I want to thank each and every one of you for your membership and participation in BHCH's worthy cause. We could not make the impact we do without your support. We are a force to be reckoned with when we work together from renewing your membership, volunteering, joining a work party, or holding an office; all these efforts makes our organization successful.
Hope to see you soon,
Tammy Bozarth
Kern Sierra Unit President     BCHC VP- Youth Education
---
Backcountry Horsemen of California—Kern Sierra Unit
Objectives and Purpose:
To improve and promote the use, care and development of California backcountry trails, campsites, streams and meadows; to advocate good trail manners.
To promote the conservation and utilization of our backcountry resources in concert with livestock transportation.
To keep the backcountry trails and forage areas open to horsemen on all public lands.
To keep current information before the Corporation membership and its local Units regarding new legislation or management plans related to government regulations of the backcountry.
To support or oppose new proposals, plans and restrictions as related to the interest of horsemen and those persons interested in recreational stock use and enjoying the backcountry.
To promote the interest of people who, due to health or physical factors, need transportation other than by foot on backcountry trails.
To promote public awareness and interest in the historical aspect of horsemen and stock in the backcountry to help educate backcountry users on ways to use the trail and forage in a manner that conserves the backcountry resources.
To assist in keeping the public informed of the vital need for a clean backcountry.
To promote a working relationship with and keep the work interests of the Corporation before our local, state and federal officials.
To assist in the formation and continuation of local Units to carry on these purposes.