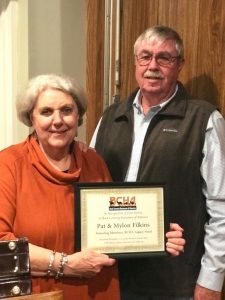 The 2019 December Dinner/Meeting, of the Kern Sierra Unit of the Back Country Horsemen of
California, was special for all attendees. We had the opportunity to honor a couple who have
been members of our unit from the day it was formed. Pat and Mylon Filkins have contributed
countless hours of trail work and support to our unit. Mylon Filkins is also a familiar name at
the State and National level of Back Country Horsemen. But we wanted to bring out the fact
that, cliche as it may be, "Behind every good man stands a better woman" or some thing to that
effect. Pat Filkins has been that woman, wife, mother, (four children), exceptional cook, trail
companion /worker, friend, and most of all cheerleader/baton twirler. Mylon would often
tease her, after a long day in the saddle or working on a trail, that her injury from the baton
twirling days must be acting up. Pat never missed a beat and never stopped smiling, her sunny
disposition always prevailed.
The Kern Sierra Unit was privileged to recognize the dedication, hard work, and support
contributed by Pat and Mylon. The Unit donated in their honor, $1,000.00 to the Legacy Fund
of i3CHA and presented them with a plaque during the December Dinner/Meeting. Pat and
Mylons' adult children surprised their parents by traveling from as far away as San Francisco to
be present for this special occasion. The enthusiasm and love for this couple continued to flow
after the presentation when another $1,500.00 was pledged to honor them through the Legacy
Fund.
As I composed this article I wanted to let everyone reading it understand the humility that,
Mylon especially, exhibited whenever he volunteered or was asked to help out with Unit
activities. Nothing expresses it better than the following poem he composed after lending a
hand with our Fall ride at Tejon Ranch.
By Peggy Whitaker
---
Fall Ride at Tejon Ranch
by Mylon Filkins, D.V.M.

The Kern Sierra Fall Ride, was on the Tejon Ranch
Peggy's assignment to me, would make some blanch.
She told me exactly what I had to do
Deliver the sanitary units – better make it two!
Backcountry horsemen arrived, driving rigs so dapper
I drove in hauling "The Crapper".
It's hard to look cool, when passing people you know
In a mobile vet unit with toilets in tow.
You're recognized less than shirt-tail relation
When you're seen pulling…. the comfort station.
It was my grandson Jordan's first ride, and he was so proud
But why's Grandpa's trailer different? …he wondered out loud.
The riders saddled their horses and climbed up and on
As I sat still hitched, to the portable John!
Everyone loved the applesauce and the gingerbread
No affection was voiced…for the mobile head.
There were rants and raves about the bar-b-que meats
No cheers were heard for the oval seats.
Cards were counted in the poker deals …..
Only full flushes were made – in the potty on wheels.
To the cooks …. all expressed their thanks
And lonely I, drove out pulling full tanks.
---