Submitted by Robert Anderson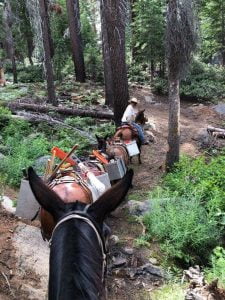 On June 16, Sequoia Forest Volunteer Coordinator, Lisa Gammell and Mike Holtsnider, met me at California Hot Springs where we loaded up three horses and three mules and headed to the Jerky Trailhead. There we loaded chainsaws, hand tools, shovels and food and water and headed towards the Golden Trout Wilderness to remove trees.
8 hours and 13 trees later, we returned to the trailhead to head home.
It was a beautiful day and though we worked hard, we had a great time and the trail is now in good shape all the way to the top.
We met a number of hikers who were very appreciative of our work.