Submitted by Robert Anderson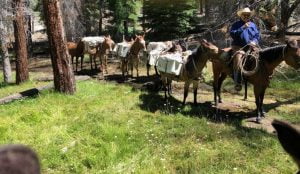 On June 9, Sequoia Forest Volunteer Coordinator, Lisa Gammell, met me at Springville where we headed to the Forks of the Kern Trailhead to cut fallen branches out of the horse corrals.
After three hours we had the branches down and cut into firewood and drug all the brush into a pile. The corrals are in good shape and we will need to go back and fix some hitching rails.