We are concerned men and women dedicated to the gentle use of California trails and back country.
---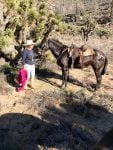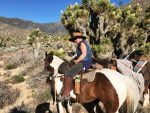 The pictures are from a work project on the Pacific Crest Trail near Walker Pass.  Lynn Joiner and Cheryl Reese and a crew of about 10 volunteers, both stock users and hikers, crosscut trees and used rock bars to clear the trail.  
Dr. Bill Carter from Bishop organized the crew.
---
Pioneer Day at the Kern County Museum 2017
Pictured:  Sylvia Chavez, Kathy Ponik-Ervin, Fred Chavez, and Jeannie Walford